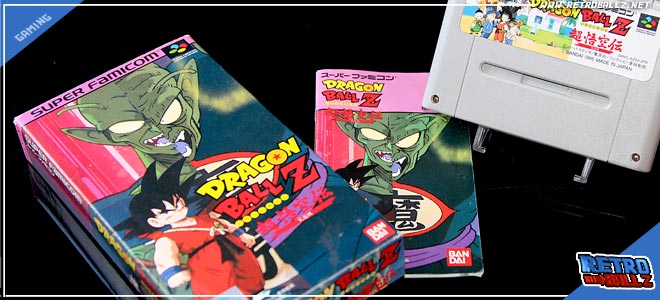 Dragon Ball Z: Super Gokuden – Totsugeki-Hen (ドラゴンボールZ 超悟空伝 -突激編) – Super Famicom (1995) – super legend of goku – assault chapter.
This game is about the begin of dragonball from the arrival of goku to his fight against piccolo daimao.
It's an adventure game where you need to answer questions to go on.
The fighting system is based on "janken" (rock paper cisors).
TV COMMERCIAL !
Anwswers to Super Gokuden questions

000 – Catch a Giant Fish
001 – Meet Bulma
002 – Ignore Bulma's proposal
003 – Bulma pee
004 – Fight the Pterodactyl
005 – Camping
006 – Bathing
007 – Take Bulma's panties off
008 – Help Turtle
009 – Fight Bear Thief
010 – Meet Master Roshi
011 – Obtain the Flying Nimbus
012 – Hit by an ax
013 – Touch Pochawompa
014 – Dress up like Pochawompa
015 – Meet Oolong
016 – Fight Oolong
017 – Save the kidnapped girls
018 – Touch Oolong
019 – Oolong shapeshifts into a fish
020 – Catch Oolong with panties
021 – Make Oolong eat the PP Candy
022 – Fight Yamcha
023 – Yamcha run away
024 – Oolong make his companions sleep
025 – Yamcha visits
026 – Oolong meets Puar
027 – Bulma wears the Bunny costume
028 – Yamcha arrives
029 – Fight Yamcha
030 – Yamcha loses
031 – Meeting with Ox-King
032 – Ox-King's proposal
033 – Meeting with Chi-Chi
034 – Touch Chi-Chi
035 – Visits Master Roshi
036 – Bulma's promise
037 – Kamehameha
038 – Training promise by Master Roshi
039 – Bulma's surprise
040 – Gratuitousness
041 – Bulma takes off the Bunny costume
042 – Fight the Rabbit Mob
043 – Meeting with Monster Carrot
044 – Carrot Bulma
045 – Fight Monster Carrot
046 – Send the Rabbit Mob to the moon
047 – Dragon Balls stolen
048 – Emperor Pilaf
049 – In jail
050 – Blow a kiss to Bulma ("The Treatment")
051 – Sleeping Gas
052 – Pilaf invokes Shenron
053 – Panties
054 – Dragon Balls spread
055 – Great Ape under the moon
056 – Tail cut off
057 – Master Roshi's training
058 – Master Roshi's proposal
059 – Muscular Lady brought
060 – Blonde girl with sunglasses brought
061 – Mermaid brought
062 – Mermaid punch
063 – Krillin arrives
064 – Krillin bribes Roshi
065 – Seeking for a girl (Goku + Krillin)
066 – Goku and women
067 – Meet Launch
068 – Fight the police
069 – Bring Launch at Kame House
070 – Goku and Krillin students
071 – Blonde Launch
072 – Change island
073 – 100 meters race
074 – Seek for the rock
075 – Krillin steals the rock
076 – Fight Krillin
077 – Launch beaten
078 – Learn martial arts
079 – Morning training : race and milk delivering
080 – Noon training: field plowing
081 – Evening race : clump of earth dismiss
082 – Move the giant rock
083 – World Martial Arts Tournament
084 – Turtle School uniform
085 – Elimination round against the military man
086 – Elimination round against the young monk
087 – Discuss with Master Roshi
088 – Reunion with Yamcha
089 – Fight Giran
090 – Krillin beaten
091 – Fight Nam
092 – Nam and Jackie Chun
093 – Fight Jackie Chun
094 – Great Ape Goku
095 – Moon destroyed
096 – Search the Four-Star Ball
097 – Fight Colonel Silver's henchmen
098 – Flying Nimbus destroyed
099 – Fight Colonel Silver
100 – Use the plane
101 – The plane crashes
102 – Help Jingle Village
103 – Beat the Red Ribbon Army soldiers
104 – Decide to save the Jingle Village Chief
105 – Take warm clothes
106 – The Muscle Tower
107 – Fight Major Metallitron
108 – Fight Ninja Murasaki
109 – Meet Android 8
110 – Confront Buyon
111 – Fight General White
112 – Android 8's protection
113 – Jingle Village Chief saved
114 – Android 8 stay at Jingle Village
115 – The Flying Nimbus returns
116 – lets go to the City
117 – Fight the Muay thaï boxer
118 – Fight the thief with a knife
119 – Give the money to the girl
120 – Picture of Bulma
121 – Policeman
122 – Reunion with Bulma
123 – General Blue appears
124 – Bulma's new capsule
125 – Fight the soldier of General Blue
126 – Capsule switch
127 – General Blue attacks
128 – General Blue shoots
129 – General Blue attacks
130 – General Blue's soldiers attack
131 – Fight the Pirate Robot
132 – General Blue's trap
133 – Fight Octopapa
134 – Fight General Blue
135 – Help the mouse
136 – Leave the Underwater Cave
137 – Bulma's diamond
138 – Freed by Launch
139 – General Blue steals the Dragon Balls
140 – Getting lost in flight (Arale and Dr. Slump)
141 – Retrieve General Blue's Dragon Balls
142 – Fight Captain Yellow, Meet Upa
143 – Mercenary Tao appears
144 – Mercenary Tao beats General Blue
145 – Bora's death
146 – Fight Mercenary Tao (loose)
147 – Climb Korin Tower
148 – Catch Korin
149 – Fight Mercenary Tao (win)
150 – Attack the Red Ribbon Army Headquarters
151 – Yamcha wants to help Goku
152 – Staff Officer Black kills Commander Red
153 – Fight Staff Officer Black
154 – Fight Black's Battle Jacket
155 – Detour at the village
156 – Pick Upa
157 – Meeting with the fighters
158 – Meeting with Fortuneteller Baba
159 – First defeat
160 – 2 vs 1
161 – Fight Bandages the Mummy
162 – Fight Spike the Devil Man
163 – Fight the masked man
164 – Tail caught
165 – Meeting with Grandpa Gohan
166 – Baba's Crystal Ball
167 – Fight Pilaf and his henchmen
168 – Fight the new Pilaf Machine
169 – Bora resurrected
170 – Goku set off on a journey
171 – World Martial Arts Tournament: elimination rounds
172 – Yamcha looses
173 – Krillin goes to the semi-finale
174 – Fight Pamput
175 – Jackie Chun unmasked
176 – Jackie Chun gives up
177 – Fight Krillin
178 – Fight Tien Shinhan
179 – Tien Shinhan's betrayal
180 – Tien Shinhan wins by chance
181 – Krillin's death
182 – Fight Tambourine (loose)
183 – King Piccolo appears
184 – Cymbal's birth
185 – Goku's return
186 – Eath the Giant Fish
187 – Fight Yajirobe
188 – Yajirobe kills Cymbal
189 – Fight Tambourine (win)
190 – Fight King Piccolo (loose)
191 – Failed Evil Containment Wave
192 – King Piccolo rejuvenate
193 – Yajirobe save Goku
194 – Pilaf and his gang dismissed
195 – Yajirobe's help
196 – King Piccolo
197 – Drink the Ultra Divine Water
198 – Piccolo attacks
199 – Tien Shinhan saves the king
200 – Drum's birth, Tien Shinhan looses
201 – Fight Drum
202 – Fight King Piccolo
203 – Piccolo's egg (end)