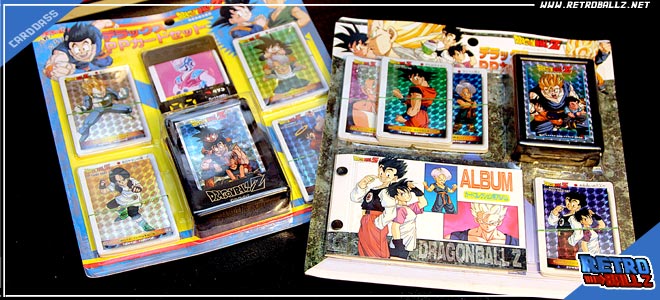 Amada chose to sell its cards by the piece in paper packs.
This choice alowed Amada to produce different king of packs filled with goodies and hard dx prisms only available these special packs.Nowadays Amada packs like pullpacks and deluxe packs are items full of nostalgia loved by dragon ball cards collectors.
AMADA PACKS IN VIDEO!
DIFFERENT KIND OF PACKS!
hikuzohkun packs 9 cards + 1 on the pack 2 hard DX inside
Pocketcase pack 5 cards including 1 hard DX prism
+1 box with 25 cards capacity
Hardcase packs 5 cards including 1 hard DX prism
+1 dispenser box with 25 cards capacity
Les Deluxe Hardcase5 cards including 1 hard DX prism
+1 box with 25 cards capacity on 2 rows
Deluxe pack reader20 cards including 4 hard prism DX
+1 box with 25 cards capacity
+1 belt holder
+1 power reader card that reveals the hidden power
Deluxe pack album 20 cards including 4 hard DX prism
+1 box with 25 cards capacity
+1 small binder
3 comments on "
Amada packs of cards

"